NG 900/9-3 Oil Pan, Oil Screen, Bearings
From The Saab Tech Wiki
Overview
The oilpan was removed at 107k miles, several oil changes and two more engine flushes after oil deposits were found under the valve cover.
Engine history before dropping the oilpan:
Valve cover removed at 100K miles to repair valve cover leaks
UOA (Used Oil Analysis) by Blackstone Labs
Amsoil engine flush was used with one oil change
Oil pressure and compression tests
Auto-Rx engine flush before oilpan removal and oil pickup screen cleaning
Timing chain tensioner removed, measured, and found extended to limit
Inspection
Oil Pan
Interior with oil screen removed and tilted up to see area clogged with oil deposits. Bottom of oil pan is covered with a tar-like layer of oil deposits.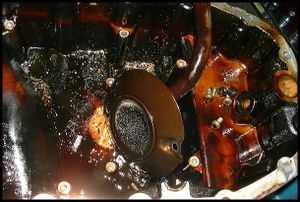 Oil Screen
The screen was about 80% plugged. Probably just enough free area left to maintain minimal oil pressure.
Metal in Oil Pan
Close-up. Small flakes of metal were found embedded in the layer of oil deposits in the bottom, between 1 and 2 mm in size (some spots are reflections). No metal was found in drained oil earlier, and almost nothing was found on the magnetic oil drain plug.
Bearing Damage
One main bearing and one rod bearing were removed for inspection. The rod bearing showed heavy wear. Using the Haynes manual as a reference, it resembled example F in diagram 15.2, chapter 2B, "craters or pockets".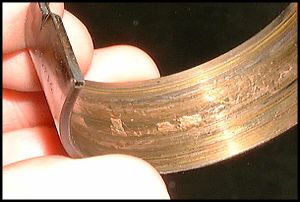 Cracked Rod Bearing
When both main and rod bearings were later replaced, one of the rod bearings came out with layers of metal stripped away, and one of the half-shells in pieces. The picture shows the reason for the amount of metal found in the oil pan.
Information
Links
References
Haynes 2B-15, Main and big-end bearing inspection
Saab EPC 2-0600, Oil Sump, Oil Filter