NG 900/9-3 Cabin Temperature Sensor
From The Saab Tech Wiki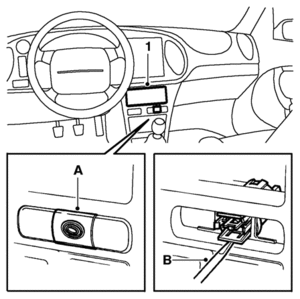 Removal
1. Remove the ACC control module.
2. Press the buttons beside the cabin temperature sensor (A) and remove the cover over the sensor with your fingers.
3. Carefully release the catches securing the sensor in the dashboard. Use a small screwdriver (B).
4. Press the sensor inwards to remove it and unplug the connector (C).
Replacement
1. Plug in the connector.
2. Fit the indoor temperature sensor in place.
3. Fit the cover in place.
4. Fit the ACC control module back in place.
5. Calibrate the ACC system by pressing the "AUTO" and "OFF" buttons simultaneously.
Important: On initiating calibration, all previous trouble codes will be cleared. Before starting calibration, a readout must be obtained of all trouble codes stored in the memory.